The latest news and information from the Missouri District.
PUBLISHED BY THE MISSOURI DISTRICT OF THE LUTHERAN CHURCH—MISSOURI SYNOD
September 14, 2018
Lutheran Campus Ministries Welcome Students For the 2018-2019 School Year
"For I know the plans I have for you," declares the Lord,
"plans to prosper you and not to harm you, plans to give
you hope and a future -Jeremiah 29:11
Throughout the state of Missouri, college campuses are mission fields ripe for harvest! The five ministries featured here are all recipients of district mission grants this fiscal year—made possible through the generosity of donors. Thank you for your support! For more information on how to give, email Leah at leah.sieveking@mo.lcms.org.
Lutheran Student Center in Springfield, Mo.
Students return to school and the Lutheran Student Center to kick off school year in Springfield.
Photo courtesy of Matt Seacrist/Lutheran Student Center-Springfield
New and returning students at the Lutheran Student Center in Springfield, Missouri kicked off a week of activities with a faith filled Opening Worship service on Sunday August 19, 2018. Rev. Mark Hunsaker came and delivered a wonderful message for the students at Opening Worship. Hunsaker commented on social media, "One of the great joys of my life is getting to celebrate Jesus with the students at the Lutheran Student Center." Throughout the week LCS hosted and coordinated events to engage young adults through a variety of activites. Highlights of the week included: a blanket making service project and ice cream social, weekly Prayer and Praise, a scavenger hunt around Springfield, mini golf, and ended with a BBQ at the LSC. In upcoming weeks a LSC group will be going to Table Rock Lake as well as attending an annual retreat at Heit's Point. Activities will continue throughout the school year.

See more happenings at LSC Springfield at http://lsc-springfield.wixsite.com/lsc-springfield
Lutheran Campus Center in Maryville, Mo.
Left: Grill master, Ralph Walsh of Hope-Maryville; Upper Right: Pastor Dave Oddi at Organizational Fair, Lower Right: Members of Hope and students enjoy BBQ together.
Photos courtesy of Lutheran Campus Center
Lutheran Campus Center, located in Maryville, Mo. hit the ground running as the school year got underway this fall. LCC's busy week began August 25th as freshmen poured in to attend orientation. Pastor David and Mrs. Lesley Oddi manned the LCC table and were able to establish connections with new student body. The next day brought a potluck BBQ
where members of Hope provided side dishes and BBQ and an opportunity for the congregration to get to know the new students and see the returning ones. New students were invited to visit the center and see what LCC does.
As the week of classes began the activities continued with other fellowship opportunities. Students enjoyed a meal together followed by a bible study. At the end of the long first week LCC hosted "Movie on the House" where a film was projected onto the side of the center. LCC invited people to grab some popcorn and bring their lawnchairs and blankets and sit back and relax with their friends both new and old.
The first week's activities concluded with a church service where people of faith gathered to share in God's Word.
Stay up to date with LCC at http://www.maryvillehopelcc.org
Lutheran Chapel of Hope in Cape Girardeau, Mo.
Students gather at Lutheran Chapel of Hope in Cape Girardeau for Opening Week Activities
Photo courtesy of Rev. Alan Wollenburg
As part of Southeast Missouri State University's Engage in 8 program the Lutheran Chapel of Hope, located in Cape Girardeau, welcomed students for the 2018-2019 academic year. Chapel of Hope fired up the grill to provide new and returning students hots dogs and drinks at their open house. The Meet & Greet provided a time and place for students to catch up after their summer breaks. The week also included their regular Wednesday free lunch and Bible study as well as Thursday devotions where students are being taught to sing Evening Prayer from LSB by Pastor Alan Wollenburg. In addition to Opening Week, Sundays provide a time to worship with Holy Communion for the students. Throughout the year students are able to come to the Chapel of Hope to have a change of environment from dorm life. They are welcome to use it for personal studying, private devotions, and fellowship.

Find Chapel of Hope on Facebook at Lutheran Chapel of Hope SEMO for more information.
Upper: SEMO students socialize at the back to school activites
Lower: Students take some time to enjoy a meal and some time together at Chapel of Hope
Photos courtesy of Rev. Alan Wollenburg
UCM Lutheran Student Center in Warrensburg, Mo.
Students of University of Central Missouri attend a Bible Study during Opening Week.
Photos courtesy of UCM Lutheran Student Center
The heat of August in central Misssouri made the Welcome Back Ice Cream Social perfect as the Lutheran Student Center at the University of Central Missouri got ready to start another school year. The social came after veteran UCM Lutherans worked the Student Involvement Fair where they answered questions and signed up interested people to be part of the Lutheran Student Center. All new and returning students were invited to partake in the evening of sweet treats, board games, and Bible study. The following day, students were also treated to the summer meal: hot dogs, hamburgers, salad and veggies as part of the Welcome Back BBQ. All in attendence were invited to stay for Bible Study on the 23rd Psalm. The Lutheran Student Center is working hard to fulfill their mission "To nurture UCM students in a growing faith walk with Jesus."

Like Lutheran Student Union at UCMLutherans! on Facebook
Lutheran Student Union in St. Charles, Mo.
Immanuel Lutheran Church prayed for students at nearby Lindenwood University as they came to St. Charles, Mo. this August for the academic year. Their prayer was for all students but, in particular, LU students. "Heavenly Father, you are the source of all knowledge and truth, give to all students the wisdom to discern what is good, right, and honorable as they begin a new year of school. Send your Holy Spirit and give peace to any who are anxious or nervous. Finally, watch over and protect their faith in your Son, Jesus Christ, the way, truth, and life. Amen!" In order to ease fears and welcome others the Lutheran Student Union hosted a pizza party to start the school year. This year brings LSU's first annual Tuesday night Bible study series called Scripture Fulfilled! which will help facilitate a deeper understanding of the faith. Students are welcome to come learn and discuss His Word in Lindenwood's historic pavillon. Established in 2014, LSU is a small but mighty group that is always looking to make sure that everyone feels welcome by gathering for a meal in the student cafeteria on Thursdays. Students are welcome to come for fun and faith-filled discussions and see how LSU is putting their faith in action!

Like Lutheran Student Union at Lindwood on Facebook to find out more.
Announcements & Other News
Concordia Seminary, St. Louis has scheduled a variety of on-campus visitation events for prospective students for the 2018-19 academic year.
All events are aimed at providing a preview of the Seminary's ministerial formation experience as students prepare for pastoral and diaconal ministry. There is something for everyone – including events for prospective students who are in high school or college, as well as for those who are considering ministry as a second career.
"Formation for ministry happens in community," said Rev. Bill Wrede, the Seminary's director of Ministerial Recruitment and Admissions. "Participants have an opportunity to experience life on campus, hear from others who've made this journey and consider a full-time vocation in the church."

Upcoming visitation events include:

Contemplate (Oct. 4-6, 2018; Feb. 28-March 2, 2019): For college students and second-career men and women, this three-day visit offers an in-depth view of the preparation that leads to service as a pastor or deaconess. The event is free.
Register: www.csl.edu/contemplate

Green & Gold Days (Nov. 2, 2018; Feb. 8 and April 12, 2019): For college students and second-career men and women, Green & Gold Days is an opportunity to spend a day on campus and see what the Seminary has to offer. The day includes meeting with current students and professors, attending classes and chapel, and ending the day with dinner and discussion. The event is free.
Register: www.csl.edu/greengold

Taste of the Sem (Feb. 16-18, 2019): For high school men, this is the chance to spend a weekend on campus diving into Lutheran theology, prayer and worship. Participants can talk with current students and professors. Because preparation extends beyond the classroom, participants accompany their mentors Sunday to the church the mentor serves. The event is free.
Register: www.csl.edu/taste

Vocatio (June 22-27, 2019): For high school men and women, this weeklong retreat explores God's calling and direction. Included are Bible study, worship, vocation discussion, a servant event and some St. Louis fun. A Concordia University System college fair also is scheduled. Registration is $150, but travel assistance is available upon request.
Register: www.csl.edu/vocatio

Next Steps (July 26-27, 2019): For prospective students who are married and their spouse and children, this two-day event provides participants an opportunity to connect with the Concordia Seminary community. From visiting the campus to experiencing life with Seminary families, participants learn about transitioning to life at the Seminary from those who already have taken this step. The event is free.
Register: www.csl.edu/nextsteps
To learn more about Seminary's visitation events, call 800-822-9545, email admissions@csl.edu or visit www.csl.edu/admissions.
About Concordia Seminary
Concordia Seminary, St. Louis provides Gospel-centered graduate-level theological education for pastors, missionaries, deaconesses, scholars and other leaders in the name of The Lutheran Church—Missouri Synod (LCMS). To learn more, visit www.csl.edu.
Missouri District Pastors' Conference
September 30-October 2
District Pastors will meet at Tan-Tar-A in Osage Beach on September 30 – October 2 for the Missouri District Pastors' Conference.
The conference will focus on helping pastors continue to hone their homiletical skills through a preacher's clinic format and prepare pastors for utilization of the "Preach the Word" modules from the Synod.
The Divine Service will be held at Christ the King Lutheran Church in Lake Ozark on Sunday, September 30th at 7:00 p.m. No evening program has been planned, allowing time for "mutual conversation and consolation of the brethren."
The conference will begin on Monday morning, October 1st and conclude shortly after noon on Tuesday, October 2nd.
Click below for more information and to register.
LESA's 6th Annual "Brew in the Lou" Festival Returns to Francis Park
October 13
The St. Louis-based Lutheran Elementary School Association's (LESA) sixth annual "Brew in the Lou" festival will return to the Lily Pond at Francis Park, Saturday, Oct. 13, 2018, from 1-5 pm.

"Brew in the Lou" offers one-stop tasting of St. Louis' best beer, wine, spirits, coffee and good eats. Last year's festival raised a record $92,000 for Lutheran schools and showcased more than 40 local and regional craft breweries, along with unlimited tastings from The Stellar Hog, Gobble Stop Smokehouse, Volpi, Dogtown Pizza, Nothing Bundt Cakes and many more. Festivities include live entertainment, arts and craft vendors, a "People's Choice" Home Brew Competition, a "Battle of the Bratwurst" and our annual Brew Chili Contest.

Wristbands are available now at special pre-sale price of just $30 through June 30, 2018 – a $20 savings over same-day admission. On July 1, tickets will increase to $40 advance/$50 day-of-event. To purchase at the special pre-sale rate, call (314) 200-0797 by 4 pm on Friday June 29, 2018, or purchase online by midnight June 30, 2018, on the event website by clicking here. Wristband purchases include a commemorative glass.

More than 8,800 children attend LESA member Lutheran schools in the St. Louis Metro Area, making Lutheran schools the second-largest private school system in the Bi-State area. A Recognized Service Organization of the Lutheran Church-Missouri Synod, LESA represents 35 elementary and high schools and five related agencies. For more information, visit www.LESAstl.org.

Don't miss this year's "Brew in the Lou!" We hope to see you October 13 at Francis Park in the St. Louis Hills - 5399 Donovan Avenue, St. Louis, MO 63109.
Fall Junior High Retreat
October 19-22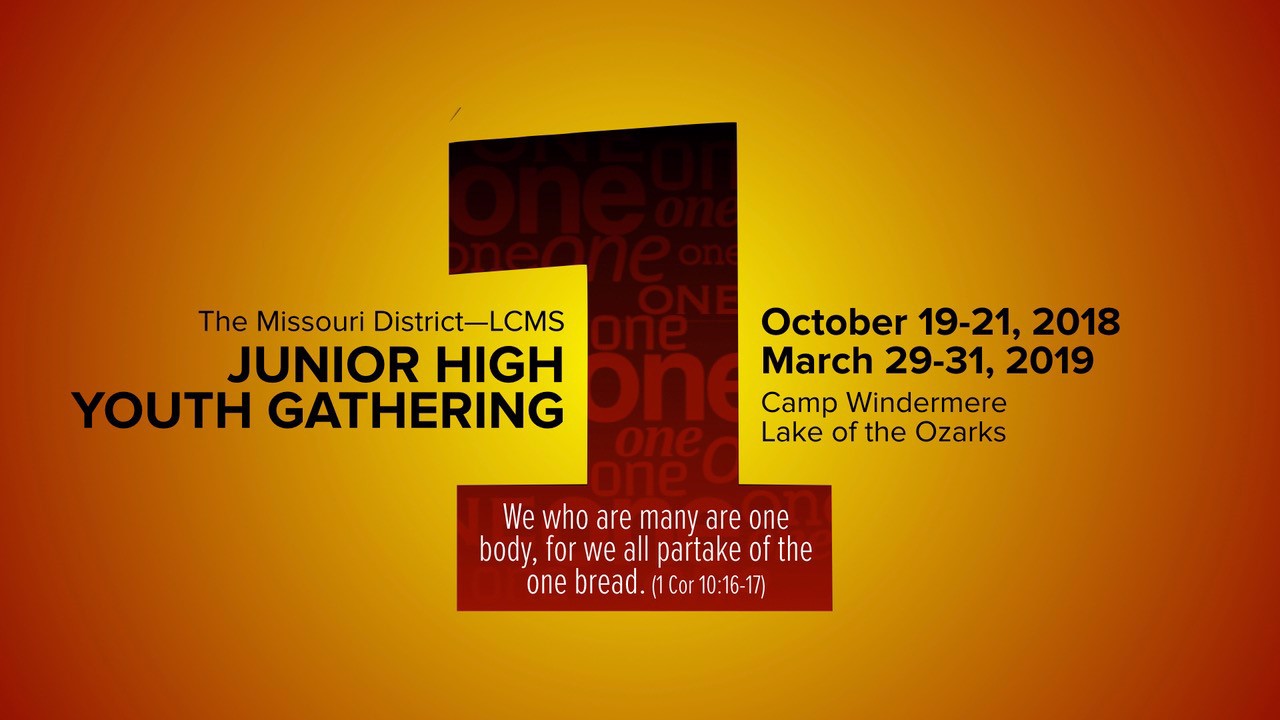 The Missouri District Lutheran Jr High Retreat is returning this Fall on October 19-21 around the theme, "One". Our focus this year is the Sacrament of the Altar. Our presenter & worship leader is Rev. Matthew Ryan Gonzalez, pastor at Trinity Evangelical Lutheran Church – The Bronx, New York. You may have seen him as a Bible Study Presenter at the 2016 National Youth Gathering. We are excited to have him join us! Click here for complete bio and more info.
Sr. High District Youth Gathering
November 16-18
This year our District Youth Gathering Theme will simply be "I AM." In Exodus 3 Moses encounters God at the burning bush. It is here that God gives Moses his personal name, Yahweh, and the authority of "I AM" to go to the people of Israel. His message: "I AM" has seen your affliction and I will bring you up out of it!
Today young Christians experience many different kinds of afflictions – personal, emotional, spiritual, mental, and physical – and God is the one who delivers us from these afflictions.
Join us as we gather together to worship, experience the Living Word of God November 16-18, 2018 at Cross Pointe Retreat Center in Rocky Mount, MO. Several of our interest centers will focus on common afflictions that we face as Christians such as depression and suicide. We will also have interest centers focusing on sharing the Word of God with others. Specific Interest Center presenters and other information will be available soon.

Click here for more information.
2018 National Rural & Small Town Mission Conference
November 8-10

The Lutheran Church — Missouri Synod will host its 2018 National Rural & Small Town Mission Conference on Nov. 8-10 in Kansas City, Mo., at the Hilton Kansas City Airport Hotel.

Geared for anyone from a rural and small-town setting, the conference will address the blessings and challenges facing rural and small-town congregations today. It's also designed to encourage those congregations and their leaders in cultivating healthy churches that are eager to bear witness to Christ, show mercy to those in need in their communities and develop a robust life together with their fellow members.

Building on the theme "Have No Fear," the conference will feature a few keynote speakers including Rev. Timothy Koch, Rev. Dr. Robert H. Bennett, Rev. Tom Schlund and Chaplain Craig Muehler.

Participants will choose from breakout topics such as disaster training, youth ministry, ministry to inactives, family ministry outreach, stewardship, hope during grief, opportunities with Recognized Service Organizations and many other topics affecting our rural and small-town congregations.

The conference rate of $215 includes all plenary, breakout and Bible study sessions; Thursday dinner, Friday lunch and Friday dinner; and all conference materials.

Online registration is available; the deadline is Sept. 15.

Special rates are available for couples, students, meals only and groups. Please contact the RSTM office with questions. Click here for more information or to register.
New Spanish Resources for Hispanic Ministry
If you'd like to share the Gospel with your Spanish-speaking neighbors, or if you're heading out on a short-term mission trip to Central or South America, the Lutheran Heritage Foundation ( www.LHFmissions.org) has translated and published two new resources for you: A Child's Garden of Bible Stories and the Bible with Small Catechism, both in the Spanish language.

Donations to help cover the printing and shipping costs are gratefully accepted, but as with all of LHF's translated materials, both of these books are free of charge to the ministries, churches, or individuals who need them. Call the LHF office at (800)554-0723 or email info@LHFmissions.org with your order (number of copies, hardcover or paperback).
Volunteers Needed for LEA Convocation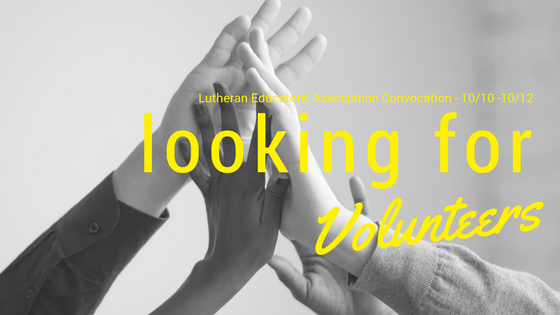 The Missouri District is looking for volunteers to help out at the Lutheran Educators' Association (LEA) Convocation October 10-12, 2019 at the Americas Center in St. Louis.
Volunteers will be needed to welcome and direct participants, run errands and assist with registration and hospitality. This is the perfect opportunity for retirees, especially retired educators, so that current educators can attend events rather than serve in volunteer roles.
There are many opportunities available, so everyone is sure to find a fit for their skills, talents and desire. Whether you can be there for a few hours, half a day, or multiple days, we'd love to have your help.
If interested, please send an email with your name, phone number, email address and availability to Alan Freeman at alan.freeman@mo.lcms.org.
LWML Carnival Fantasy Cruise
Post the National LWML Convention in Mobile Alabama, the LWML is pleased to offer a cruise on the Carnival Fantasy for FUN from June 24- 29, 2019. Well-deserved rest and relaxation with proceeds which benefit the mission projects of the LWML.
Would you like to take part in this fun getaway while benefiting LWML?
McGehee Cruise & Vacation Inc. will assist with all reservations for the cruise.
Registration is now open:
Please click here for more information.
Help Wanted in the District

Director of Music
St. Lucas Lutheran Church, LCMS, St. Louis, Missouri is seeking a candidate to serve as a Director of Music. Online applications are available at http://www.stlucaslcms.org/. For more information, please contact the church office at 314-351-2628, Tuesday through Friday, 9am to 3pm.

Early Childhood Center Director
St. Lucas Lutheran Church, LCMS, St. Louis, Missouri is seeking a candidate to serve as an Early Childhood Center Director. Online applications are available at http://www.stlucaslcms.org/. For more information, please contact the church office at 314-351-2628, Tuesday through Friday, 9am to 3pm.
Get $20,000 to become a church worker in the LCMS!
Is God calling you into church work in the Lutheran Church - Missouri Synod? Are you concerned about how you are going to pay for the hight cost of college?

At Concordia University Irvine we value the formation of future leaders for our church. Therefore we are pleased to announce that, starting with the 2018-2019 school year, we are offering qualified church work students a guaranteed total of $20,000 in institutional aid per year, plus a housing grant.

Ready to begin? To start the application process, go to www.cui.edu/app.

To learn more about the church vocations scholarship, who is qualified, and additional application requirements for church work programs, go to www.cui.edu/churchworkscholarship.
Many congregations are participating in our community outreach effort, the Plus One Initiative. Congregations are encouraged to complete a Plus One participation form and either mail it to the district office or email it to plusone@mo.lcms.org. If you want additional information about Plus One or a copy of the Plus One participation form, go to http://mo.lcms.org/plus-one/.