PUBLISHED BY THE MISSOURI DISTRICT OF THE LUTHERAN CHURCH—MISSOURI SYNOD
May 6, 2016
Missouri Missions Highlights:Compass Educational Programs
Compass Educational Programs offers quality preschool as well as warm and welcoming before- and after- school care on school campuses. Our mission is to provide each child with high-quality learning in a safe and loving Christian environment. Our programs strive to be an extension of the family setting, designed to give parents a support system, educational choice and peace of mind. Read more . . .
St. John's in Mexico Hosts Joint Circuit Meeting













On May 3, the Columbia and Jefferson City Joint Circuit Pastors Meeting was held at Saint John's Lutheran Church in Mexico, Mo. Pastors met for worship at 9 am, met from 10-12, and had a wonderful noonday meal of BBQ pork and steak, homemade potato salad, green bean casserole, rolls and pies! Afterwards they enjoyed a game of volleyball.


The Value of Strategic Planning

Taken from the May 2016 RSTM Newsletter by Rev. Todd Kollbaum, Director, Rural & Small Town Mission
As a young person, I can remember conversations between my dad and grandpa about the farm. They would often center on planning. Not just for the day, although that certainly was important, but more regarding the big picture: what would be planted in which fields the next year, when we'd buy, when we'd sell, how many hogs or cattle we would have … the conversa¬tions would flow. What I didn't know at the time, although they never called it this, was that these men were engaged in strategic planning. Read more . . .
New American of the Month
Taken from the May 2016 CFNA Newsletter
By Tim Anas, Student, Concordia Seminary, Family Advocate, Timothy Lutheran Church



Having lived as a small child in an impoverished village in Liberia, Henry Manu came to St. Louis approximately 10 years ago as a refugee, and an orphan. With his mother having been killed in the Liberian civil war and his father in a refugee camp, where he remains until today, he was raised in St. Louis by his grandmother and an aunt – just a few years his senior.

Henry became connected with CFNA, and Timothy Lutheran Church, through Tim Schrader, a long time CFNA Associate. The primary link was sports, about which Henry is passionate. A soccer team coached by Tim was his first interest, but Henry became involved in other sports programs as well, including weight lifting. Just 18 years old, he is already able to squat over 350 pounds! Read more . . .
Announcements/Other News

Encourage and Equip (E2) Conferences
The Missouri District will be offering five conferences this fall to support our congregations and lay leaders. The purpose of the conferences will be to encourage, equip and connect volunteers in our congregations through presentations, partnerships and networking. The topics will cover everything from youth ministry and Sunday School to finances and elders. More details will be forthcoming! For now, mark your calendars and plan to attend a conference near you.
Saturday, September 17 Saxony Lutheran High School in Jackson

Saturday, September 24 Immanuel Lutheran Church in Wentzille

Saturday, October 1 Alive in Christ Lutheran Church in Columbia

Saturday, October 8 Timothy Lutheran Church in Blue Springs (North Campus)

Saturday, November 12 Faith Lutheran Church in Springfield

Elder's Training Conference
Join us down at the Lake for the 2016 Elders Retreat at Heit's Point, May 13-14, 2016.
The retreat with the theme "Pastors & Elders as Partners" is designed to strengthen the bond between pastors and elders through Bible study, presentations and discussions. The retreat will also focus heavily on "Healthy Servants." Pastors and elders will leave with practical applications for their work together.

Weekend Facilitators are

:
President Lee Hagan Rev. Gene Wyssmann,
Missouri District Assistant
to the President Family Life & Youth,
Congregational Health

You can register by calling 660-668-2363 or CLICK HERE to download the flyer/registration form.

2016 Heartland DCE Conference
DCEs and other parish professionals who are interested in enhancing the intentionality and effectiveness of Christian education in the church are invited to attend the 2016 Heartland DCE Conference at Concordia University, Nebraska from May 19-21. Keynote speakers include Dr. Thom Rainer, Thom and Joani Schultz and Dr. Phil Schwadel. Registration is $100. Go to www.cune.edu/heartlandDCE for more information.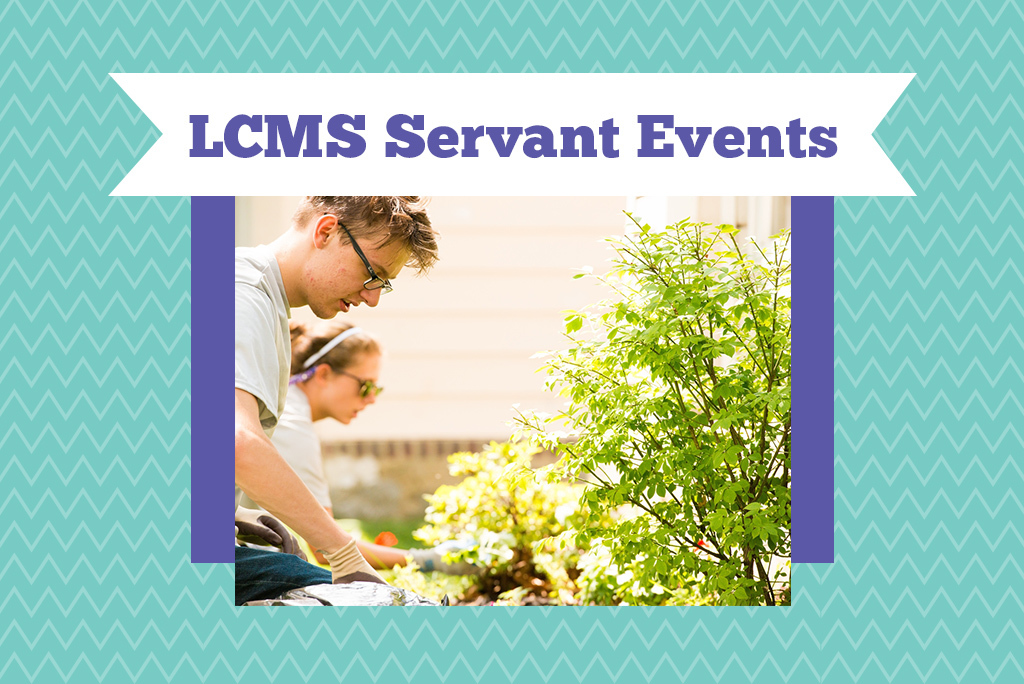 LCMS Young Adult ministry

is hosting a servant event in St. Louis June 2-5, 2016. The event begins with registration and dinner on Thursday evening at St. Trinity Lutheran Church and concludes at 1 p.m. Sunday. Young adults will work with Extreme Faith/St. Trinity and the Christian Friends of New Americans, and participants will clean, assist with facility improvement and help the organizations prepare for their respective summer ministries.

The cost is $60 per person, which includes food, a T-shirt and housing at St. Trinity. For more information please visit:
2016 LWML Missouri District Convention
Dates: June 3-5, 2016
Location: Osage Center, Cape Girardeau, Missouri
Theme: God's Love Spans the Centuries, based on Matthew 28:20b
"And surely I am with you always, to the very end of the age."
CLICK HERE for more information.
Mid Missouri Hospital Ministry


The Lutheran congregations in central Missouri provide and support a pastoral hospital ministry at the Columbia hospitals. The Mid Missouri Hospital Ministry has called the Rev. Richard Igmire to serve as chaplain to Lutheran hospital patients. The patient or his/her pastor may contact Chaplain at 573-231-2424 (cell) or by email ingmire67@hotmail.com to inform him of the hospital stay. Otherwise, a visit from Chaplain Igmire can be expected provided the patient registers as Lutheran.


District and Church Events
( Elder's Training Conference and National Youth Gathering)

Installations and Ordinations
Personnel Changes and Calling Congregations
LCMS Missouri District News
Obituaries