PUBLISHED BY THE MISSOURI DISTRICT OF THE LUTHERAN CHURCH—MISSOURI SYNOD
May 12, 2017
Mission Mondays: University Lutheran Chapel of Hope (SEMO)


The University Lutheran Chapel of Hope seeks to serve the students of Southeast Missouri State University (SEMO U) in Cape Girardeau, MO. The Chapel considers that it has the primary function of identifying Lutheran students who are on campus and gathering them together for mutual encouragement and friendship in Christ. They seek to identify those students by our presence at Freshmen move-in day and by our presence at the Fall Campus Picnic. To the end of serving these students, the Chapel hosts a weekly free lunch and Bible Study, a service which has proven to be fairly popular to all of their students. They also offer a Sunday afternoon or early evening worship service with Holy Communion for Lutherans who are on campus. Read more . . .
Volunteers Needed This Saturday!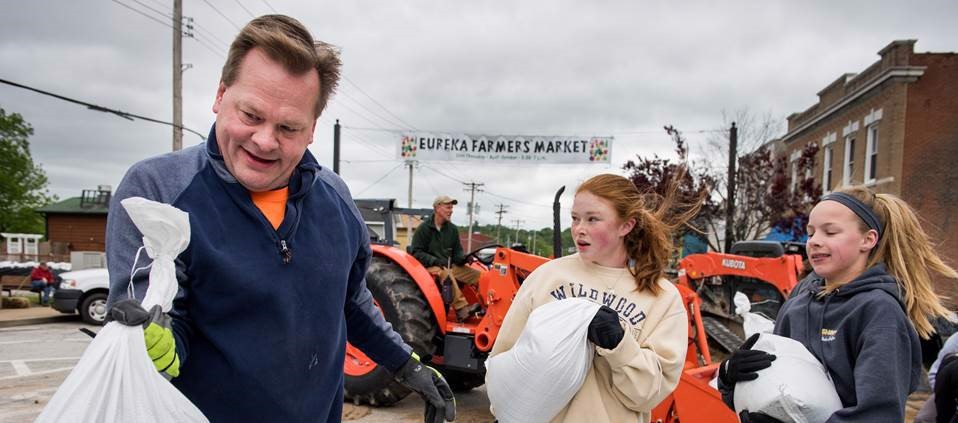 Due to recent flooding in the St. Louis Area LCMS Disaster Response is calling all volunteers to St. Mark's Lutheran Church in Eureka, MO Saturday May 13th, 2017 at 8:30 AM.
St. Mark's Lutheran Church has kindly extended an offer to serve as a base of operations. Lunch will be provided for all volunteers. If you plan on attending this work day, please RSVP and email eurekalutheran@gmail.com so that we may have lunch for you.
If you have any questions about this deployment, please contact Rev. Michael Meyer at Michael.meyer@lcms.org or call 314-996-1638
Location and Time:
Saturday May 13th at 8:30 AM (or whenever you are available)
St. Mark's Lutheran Church
500 Meramec Boulevard
Eureka, MO 63025
A Rare Happening

Pictured is a recent gathering of the 1966 Confirmation Class of Holy Cross Lutheran School and Church located in Emma, Mo.
Not only did some of the members get to take their picture, but also take it with their "second" grade teacher Laverne Brunkhorst of Holy Cross School at that time. Laverne (Brunkhorst) Gieselman served as a teacher many years and is still a member of Holy Cross congregation and lives in Emma with her husband.
Now is the time to register for the upcoming Missouri District Mission Summit. Our first district wide witness and outreach equipping event will be held June 3 at Concordia Seminary. Lutheran Hour speaker, Rev. Greg Seltz, will be the keynote speaker. The schedule includes twenty-six different sectionals for church leaders from all congregational settings. There is no cost to the attendees for the event, but we are asking that you register online for the event. For more information or the registration link, go to

http://mo.lcms.org/mission-summit-2017/

. If you have any questions about the event, please contact Sue Thompson in the district office (

sue.thompson@mo.lcms.org

). We hope to see you on June 3.
Plus One Participation Forms
Now that congregations are past the busy Lenten seasons, many congregations are now turning their attention to our community outreach effort, the Plus One Initiative. Congregations are encouraged to complete a Plus One participation form and either mail it to the district office or email it to
plusone@mo.lcms.org
. If you want additional information about Plus One or a copy of the Plus One participation form, go to
http://mo.lcms.org/plus-one/
.
Save The Dates
St. Louis Area Winkel
Monday, August 14
Concordia Seminary – St. Louis

Professional Church Workers' Conference
November 14-17
Pastors: Nov. 14-16
Educators: Nov. 15-17
Tan-Tar-A Resort – Osage Beach

Check back for more information on the above upcoming events!
St. Paul Lutheran Celebrates 100 Years

St. Paul Lutheran Church, 101 East Dent St., Ironton, MO will celebrate their 100th anniversary on May 21, 2017.

Missouri District President Rev. Dr. R. Lee Hagan will be the guest speaker at a 10:00 a.m. service followed by lunch. Email Pastor Jim
Rogers at rogersjim1947@gmail.com
2017 Educator's Retreat
Grace Place Wellness is pleased to announce a get-away weekend designed just for Lutheran teachers and their spouses, August 11 - 13, 2017 at scenic Innsbrook Resort, an hour west of St. Louis, MO. Refresh, renew and prepare for another school year by learning the secrets to a healthy, vibrant, and joy-filled ministry. It's your turn to experience the Grace Place Wellness Retreat enjoyed by over 8,000 LCMS rostered workers and spouses.

A registration fee of $100 covers the cost of all lodging, meals and the wellness retreat program. Saturday afternoon is entirely free time to enjoy the amenities at Innsbrook.

We have 16 spots available for this retreat. First come, first serve. Registration is now open at www.graceplacewellness.org For more information, please call Beth McAnallen at 314-842-3077 or email bmcanallen@graceplacewellness.org