---
From:
Missouri District LCMS <movoice=mo.lcms.org@bmail47.shgpbms1.bmsend.com> on behalf of Missouri District LCMS <movoice@mo.lcms.org>
Sent:
Friday, April 20, 2018 9:28:46 AM
To:
revklaus@hotmail.com
Subject:
The Voice of Missouri E-Newsletter
PUBLISHED BY THE MISSOURI DISTRICT OF THE LUTHERAN CHURCH—MISSOURI SYNOD
April 20, 2018
Word of Life Students Show Faith in Action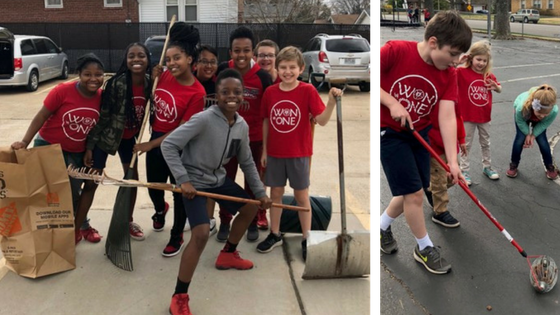 Left: Students clean up the parking lot at Timothy Lutheran Church. Right: Students pick up gumballs from the playground. PHOTO CREDIT: Megan Arnold.

Students at Word of Life (WOL) Lutheran School in St. Louis spent Friday, April 13, serving nearby association churches St. Lucas, Ascension and Timothy as part of their Faith in Action Day.

Each campus had a list of projects for the students to complete including cleaning window sills, pulling weeds, cleaning the student transportation vehicle, picking up sticks, spreading mulch on the playgrounds, matching Easter eggs and raking leaves.

"Faith in Action Day is an opportunity for our students to serve," said Megan Arnold, WOL marketing and outreach director. "Showing our students how important it is to find ways to serve others is woven throughout every day at Word of Life, but two days a year, in the fall and the spring, we put it into action in the community."

In the process, students got to meet members of the association churches and spent time working together as a team to complete the various projects.

"When you are serving someone, you have to do what they tell you to do, not go and do something that you think you should help with," said Jack Jennings, a sixth grader at Word of Life. "I like how we get to go to all the other campuses."

Having students participate in service projects is a great way to collaborate and build relationships between schools and nearby congregations. How can your school serve? Or, what needs does your church have that could be met by local students? We thank Word of Life for sharing this example of service to others.

DCE Students from Concordia Chicago Visit Missouri District Office During Trip to St. Louis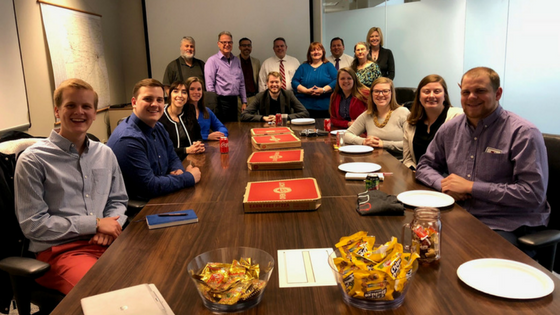 DCE students from Concordia University in Chicago join the Missouri District office staff for lunch. PHOTO CREDIT: Debbie Arfsten
Junior and senior Director of Christian Education (DCE) students from Concordia University Chicago were in St. Louis on Monday, April 16, to learn about the various entities of the LCMS as part of a class called Commissioned Ministry: DCE Ministry.

They visited the LCMS International Center (CTCR, Youth Ministry, KFUO, International Mission and Concordia Plans Services) as well as other agencies (LCEF, LHM, Missouri District office, Concordia Seminary and CPH) to hear about each unique ministry and connect with those who serve in leadership for each of them.

"The students greatly appreciated this opportunity to see how each of these entities work in mission and ministry in our church body," said Dr. Debbie Arfsten, professor of Christian education at Concordia University Chicago. "They also had a chance to see how they might connect with them once they are called DCEs in the parish."

Over lunch at the Missouri District office, the students met the district staff. District President Rev. Lee Hagan provided an overview of the Missouri District, noting the mission field here includes both rural and urban areas, and that they both face many similar challenges.

He also encouraged collaboration. "DCEs can have a strong impact on the youth in a district," Hagan said. "Youth retreats, for example, are largely driven by DCEs. Overall, they provide important support for youth, family and early childhood events and programs."

Rev. Bill Geis, assistant to the president for missions and congregational services, talked about the Missouri District's Plus One program that encourages and empowers congregations to take one more step into their community. He challenged the students to be intentional both in and out of their districts, and to engage with others and ask, "How'd you do that?" to gain ideas they could translate for their own ministry.

The students headed back to Chicago on Tuesday, April 17, after two busy days in the area. Please pray for these and other DCE students who will soon be entering the mission field to serve in various ways.

LESA Raises Record $235,000 for Lutheran Schools at Dinner Auction

Left: Casey Carlson, Missouri District assistant to the president for LCEF, presents LESA's 2018 Lutheran Student Christian Leader Award to Lars Gindler. Right: Lars Gindler performs a cello solo after receiving his award. PHOTO CREDIT: Kit Auble

The Lutheran Elementary School Association (LESA) raised a record $235,000 for Lutheran schools at its 14th Annual "A Night for Kids - Cooking for Kids" Dinner-Auction, held April 7 at the Orlando Gardens South. Proceeds from the event will benefit 8,800 students and 500 faculty members at 35 Lutheran elementary and high schools in the Bi-State area.

This year's dinner featured a special menu prepared by Executive Chef Rick Lewis, co-owner of the acclaimed Grace Meat + Three restaurant in St. Louis's Grove neighborhood and a graduate of St. Paul's Lutheran School in Des Peres and Lutheran High School South. Lewis, who was nominated for the prestigious James Beard "Rising Star Chef of the Year" Award in 2014 for his work at Quincy Street Bistro, served comfort food favorites from his new restaurant and created a signature cocktail for the event. Guests also enjoyed desserts from McArthur's Bakery, a bourbon tasting hosted by The Wine & Cheese Place and an open bar with beer selections from Anheuser-Busch.

Fox 2's Jeff Bernthal (Green Park Lutheran, Lutheran South) hosted the evening, which included the presentation of LESA's 2018 Heritage Award to John Diefenbach, a founding LESA Board Member and long-time advocate of Lutheran Christian education in St. Louis. John and his wife Marie, an active LESA volunteer, are members of Salem Lutheran Church in Salem, Mo., where John serves as an Elder.

Lars Gindler, an eighth-grader at Good Shepherd Lutheran School in Collinsville, received LESA's 2018 Lutheran Student Christian Leader Award. The award, which recognizes Lutheran elementary school students who demonstrate courage, compassion, leadership, academic achievement and a commitment to their community, includes a $500 scholarship underwritten by the Lutheran Church Extension Fund (LCEF). Lars, 14, will attend Metro East Lutheran High School in the fall.

Matthew Bohlmann, a third-year seminary student and Lutheran schools alumnus, served as auctioneer. Prizes included tickets to the hit Broadway musical Hamilton at the Fox, as well as Justin Timberlake, Ed Sheeran, Rod Stewart and the PGA Tour.

"A Night for Kids - Cooking for Kids" is LESA's largest and most important annual fundraiser to support and secure the future of Lutheran Christian education. Since 2004, LESA has awarded over $4.6 million in need-based scholarships to more than 3,000 children of all faiths in the St. Louis area. As a result, 1 out of every 8 students attending a LESA-member Lutheran school receives some level of financial assistance.

If you would like to get involved with LESA, contact Katherine "Kit" Auble at 314-200-0797, or kauble@lesastl.org.
Conference Encourages and Teaches Reconciliation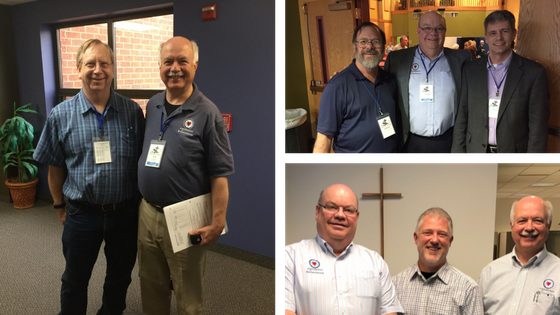 Left: Ralph Erickson and Ted Kober. Top right: Rev. Dr. Rick Foss, Dwight Schettler and Rev. Dr. Mark Rockenbach. Bottom right: Dwight Schettler, Rev. Martin Hasz and Ted Kober. PHOTO CREDIT: Rev. Gene Wyssmann

"We are therefore Christ's ambassadors, as though God were making his appeal through us. We implore you on Christ's behalf: Be reconciled to God." (2 Corinthians 5:20)

Ambassadors of Reconciliation (AOR), a recognized service organization (RSO) of the Lutheran Church Missouri Synod, hosted their third international conference April 12-14 in St. Louis. AOR is an independent, nonprofit organization founded to help Christians and their churches carry out their peacemaking responsibilities as Christ's ambassadors. Their approach is based upon the Holy Scriptures and the Lutheran Confessions.

This year's event was in collaboration with the Institute for Christian Conciliation, bringing the world of conciliation together. The conference was packed with inspirational speakers, including Ted Kober, Dwight Schettler, and Rev. Ed Keinath from Ambassadors of Reconciliation, along with dozens of educational workshops led by peacemaking experts centered on God, His Word and His plan for cultivating lifestyles of reconciliation.

Pastors and lay members from Missouri District congregations were in attendance, and all attendees were challenged to live, proclaim and cultivate lifestyles of reconciliation in the family, workplace and church.

The ministry of reconciliation is given to the local church and every believer. The mission of Ambassadors of Reconciliation is to equip Christians and their churches for living, proclaiming and cultivating lifestyles of reconciliation. Their purpose is to inspire and prepare the leaders of Christ's church around the world to carry out this vocation in more effective ways.

Call Day is Coming Next Week
Call Day for both Concordia Seminary in St. Louis and Concordia Theological Seminary in Ft. Wayne, Ind., will be here next week. Even if your congregation is not calling a candidate or expecting a vicar or intern, Call Day services are very exciting to watch and see the new pastors and deaconesses who will soon be entering the mission field.

Both seminaries livestream the services on their websites and provide frequent updates on social media. Below is information about all of the services, including links to make it easy to watch online and follow via social media.

Concordia Seminary in St. Louis - April 24
Assignment of Vicarages & Internships - 3 pm (CDT)

Assignment of Calls - 7 pm (CDT)
Watch the livestream and find out more at callday.csl.edu. Share in the celebration by using hashtags #CallDay2018 and #CallDayWatchParty and follow along on social media.

Concordia Theological Seminary in Ft. Wayne, Indiana – April 24 & 25
Vicarage & Deaconess Internship Assignment service - Tuesday, April 24, at 7 pm (EDT)

Candidate Call service - Wednesday, April 25, at 7 pm (EDT)
Both services will be livestreamed at www.ctsfw.edu/daily-chapel and www.facebook.com/ctsfw. For more information, visit their Call Day webpage at http://callday.ctsfw.edu/.
Convention Update - Registration Deadline is May 9!


The 2018 Missouri District Convention is fast approaching. Please make sure all pastoral, advisory and lay delegates are registered and have completed all necessary certification forms and lodging reservations as soon as possible, if you haven't already.

As a reminder, attendance is required for all rostered church workers. If you cannot attend for any reason, please complete the excused absence form in writing and return it to the District Office at events@mo.lcms.org.

Below are important steps for both pastors and lay delegates to follow and complete to make sure they are properly registered for all aspects of the convention. Please complete all forms and return them according to the directions on each. Forms and webpages are linked below for your convenience.

Steps for pastors:
Steps for lay delegates:
Steps for advisory delegates:
The convention workbook is now available online. Please download it and either print a hard copy or bring a digital version on your laptop or tablet. Click here to visit the convention page on our website.

For questions about the convention workbook, please contact Michelle Christ at 314-590-6200.

If you need assistance with registration, please contact Sue Thompson at 314-590-6200.

We look forward to seeing you at the convention. Please continue to pray for our district as we prepare for convention.

CFNA Freedom Run
April 28





It's the Freedom Run! Don't miss the fun! Join us for the Christian Friends of New Americans' 5K run and fun walk.

Saturday, April 28 - Register at 9 am - Start at 10 am
At Concordia Seminary in St. Louis - 801 Seminary Place, St. Louis, Mo., 63105

Bring your family and friends. Sponsor and run with a refugee child. Wheelchair accessible. Register by Friday, April 13, and get a free t-shirt. This benefit supports CFNA's work with refugees and immigrants from around the world. Go to www.cfna-stl.org/walk/ for all the details. PRIZES and SURPRISES GALORE!
Southwest Missouri Lutheran Night at the Ballpark
June 1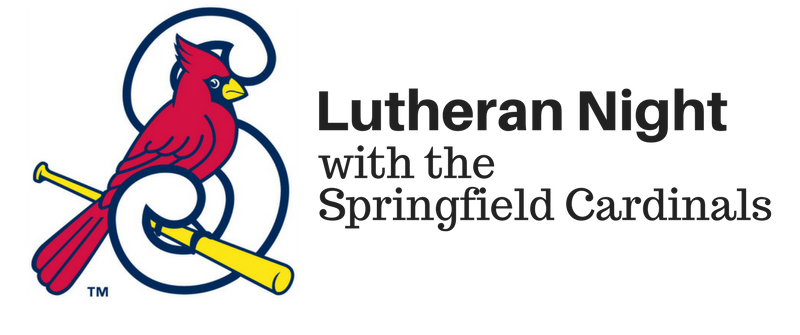 Southwest Missouri folks, don't miss this chance to cheer on the Springfield Cardinals with your fellow Lutherans.

June 1 – Game time: 7:10 pm – Gates open: 6:10 pm

Tickets are only $15 and include the following:
Reserved field box seat

Voucher for a FREE Springfield Cardinals hat

Cardinals/Lutheran red t-shirt

Post-game fireworks

Groups of 20+ have church name listed on back of t-shirt
Deadline for orders and t-shirt sizes is May 10th. Order today by contacting Teresa Calhoun at 417-832-3031 or tcalhoun@cardinals.com. T-shirts are available in sizes youth small - adult XXXL. ($2 more for XXL & XXXL)
Need a Service Project? Try LWR Service Kits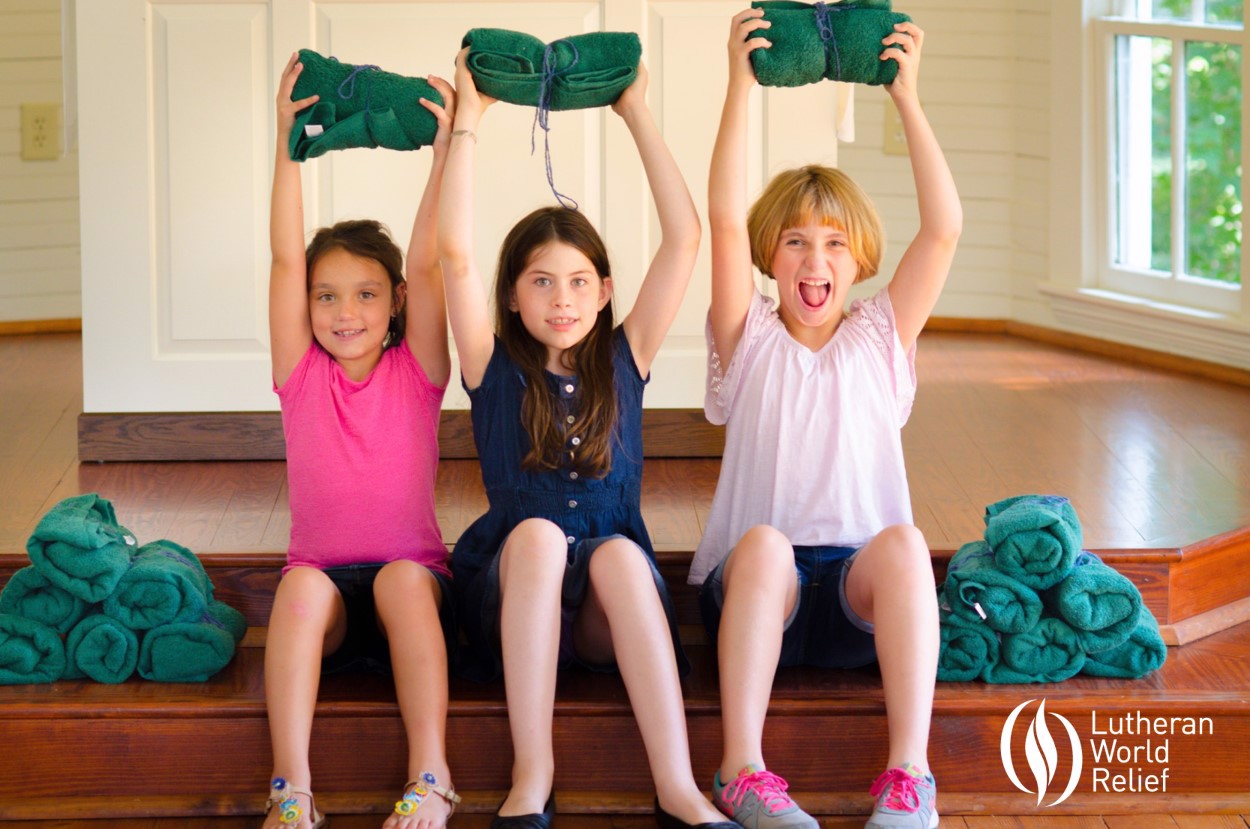 Looking for a service project to incorporate into this summer's Vacation Bible School? Assemble Kits of Care for Lutheran World Relief (LWR)! There are many types of Kits to bring youth together in service to our neighbors in need:
School Kits: Simple school supplies, like notebooks, pencils and scissors, make a world of difference for families that struggle to afford their children's education
Personal Care Kits: Basic hygiene items – soap, nail clippers, a towel – are crucial to keeping families healthy, especially after leaving their homes because of war or natural disasters
Fleece Tie Blankets: In a hospital room or on the hard ground, these handmade blankets provide protection and a sense of comfort
LWR has a number of resources available to help VBS leaders collect items, assemble kits and track them as they travel around the world. Visit lwr.org/kits to get started!
Choir Robes & Bell Tables Available
Mt. Calvary Church in Brentwood, Mo., has 28 off white choir robes with reversible stoles available in a variety of sizes along with 26 gold/red and 28 green/purple stoles. Also available are 10 Jeffers bell tables in a mix of rectangle and trapezoid shapes with red fabric table covers.

Please contact Tracy Sanchez at Tracy.Sanchez@mtcalvarylcms.org or 314-968-2360 if interested. These items are free. A donation to the church is welcome but not necessary.
Used Organ Available
20-year-old electronic organ is available to an interested congregation. For details call Stephanie at 423-802-1348.
Missouri District Lutheran Youth Fellowship (LYF) Team Now Accepting Nominations

The Missouri District Lutheran Youth Fellowship (LYF) Team gives high school youth, who are members of LCMS churches in our District, the opportunity to grow in their service to the church and in their leadership in youth ministry. Each year, we bring four new young people on board as our seniors leave us to step into the future God has planned for them. These four new young people must currently be in their freshman year of high school. You are invited to nominate a young person from your congregation to serve in this important capacity.

CLICK HERE for additional information and to download the application.
Get $20,000 to become a church worker in the LCMS!
Is God calling you into church work in the Lutheran Church - Missouri Synod? Are you concerned about how you are going to pay for the hight cost of college?

At Concordia University Irvine we value the formation of future leaders for our church. Therefore we are pleased to announce that, starting with the 2018-2019 school year, we are offering qualified church work students a guaranteed total of $20,000 in institutional aid per year, plus a housing grant.

Ready to begin? To start the application process, go to www.cui.edu/app.

To learn more about the church vocations scholarship, who is qualified, and additional application requirements for church work programs, go to www.cui.edu/churchworkscholarship.
Music Director Position
St. Lucas Lutheran Church, 7100 Morganford, St. Louis, is searching for interested candidates for the newly formed Director of Music position. This part-time position, up to nineteen hours per week, reflects one of St. Lucas' key vision priorities. Responsibilities include worship planning and leadership for both traditional and contemporary worship. The full job description and information on how to apply is found at www.stlucaslcms.org/musicdirector.
Lutheran High School South Principal Position
The Lutheran High School Association of St. Louis (Association) is seeking to fill the position of Principal of Lutheran High School South beginning with the 2018-2019 academic year. All candidates must be on the LCMS roster or eligible and willing to attain that status as a condition of hire. Candidates interested in this position can find additional information regarding this position, as well as an Employment Application, on the Association's website under EMPLOYMENT OPPORTUNITIES: https://www.lhsastl.org/page/employment-opportunities, Candidates should email their resume, employment application and cover letter to Sharon Thurman, Human Resources Manager: Sthurman@LHSAstl.org. Nominations are also encouraged and should include a letter of recommendation, current contact information for the nominee and should also be emailed to Sharon Thurman at the same address.
Lutheran North Middle School Principal Position
The Lutheran High School Association of St. Louis (Association) is seeking nominations and applications for the leadership position of Principal for Lutheran North Middle School. Candidates interested in this position can find additional information regarding this position, as well as an Employment Application, on the Association's website under EMPLOYMENT OPPORTUNITIES: https://www.lhsastl.org/page/employment-opportunities, Candidates should email their resume, employment application and cover letter to Sharon Thurman, Human Resources Manager: Sthurman@LHSAstl.org. Nominations should include a letter of recommendation and current contact information for the nominee and should also be emailed to Sharon Thurman at Sthurman@LHSAstl.org.
Plus One Participation Forms
Many congregations are turning their attention to our community outreach effort, the Plus One Initiative. Congregations are encouraged to complete a Plus One participation form and either mail it to the district office or email it to

plusone@mo.lcms.org

. If you want additional information about Plus One or a copy of the Plus One participation form, go to

http://mo.lcms.org/plus-one/

.