---
From:
Missouri District LCMS <movoice=mo.lcms.org@bmail50.shgpbms1.bmsend.com> on behalf of Missouri District LCMS <movoice@mo.lcms.org>
Sent:
Friday, August 3, 2018 8:38:40 AM
To:
revklaus@hotmail.com
Subject:
The Voice of Missouri E-Newsletter August 3, 2018
PUBLISHED BY THE MISSOURI DISTRICT OF THE LUTHERAN CHURCH—MISSOURI SYNOD
August 3, 2018
Missouri District Officers Installed
Left to Right: President Matthew Harrison, Rev. Dr. R. Lee Hagan, Rev. Todd Kollbaum
Photo courtesy of LHM/photos by Elizabeth Miller
The Missouri District celebrated the installation of officers for the 2018-2021 triennium at a service at Lutheran Hour Ministries chapel on July 26. Rev. Todd Kollbaum led the service. LCMS President Matthew C. Harrison installed Rev. Dr. Lee Hagan as district president. President Hagan installed the praesidium, Board of Directors and the newly created Council on Mission and Ministry. The District vice-presidents of the District, in order of their position, are as follows: Rev. William Marler, Rev. Dr. Kevin Golden, Rev. Brian Thieme and Rev. Kristopher Morris.
| | | |
| --- | --- | --- |
| President Harrison installs Rev. Dr. Lee Hagan | | Missouri District Praesidium |
Photos courtesy of LHM/photos by Elizabeth Miller
The Board of Directors reviewed the resolutions passed by the district convention. In other business, the board elected lay member Neal Bredehoeft, of Alma, as chairman and Rev. Jeremy Schultz, of Arnold, as vice-chairman. The board also appointed three additional lay members of the board: Conrad Griggs of Springfield, H.W. Meyr of Cape Girardeau, and Brian Mitchell of Lees Summit.
| | | |
| --- | --- | --- |
| Missouri District Board of Directors | | Missouri District Council on Mission & Ministry |
Photos courtesy of LHM/photos by Elizabeth Miller
The Council of Mission and Ministry was created by convention actions, replacing four service boards. The Council provides input for district staff in support of stewardship, outreach, youth and family ministry. Lay member Scott Davis, DCE Leah Kortmeyer and Rev. Randy Asburry were elected as chairman, vice-chairman and secretary respectively.
The Board of Directors, Council on Mission and Ministry and district staff will participate in an upcoming retreat to work through the changes to the district structure and make plans for the triennium. Please keep the work of these district leaders in your prayers and give thanks to God for those who are willing to serve.
Announcements & Other News
International Student Ministry Furniture Giveaway
August 18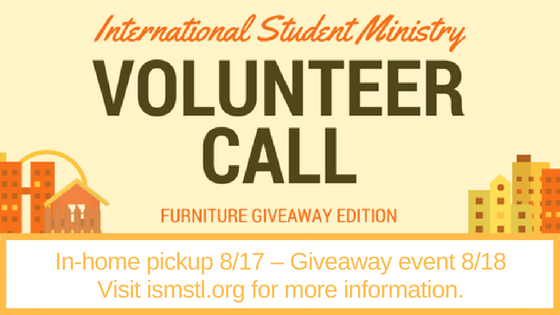 Don't get rid of that bed in the guest room, and don't throw away your old dishes … donate them! The International Student Ministry (ISM) is hosting a furniture giveaway for international students in the St. Louis area and will pick up your furniture or household items on August 17, the day before the furniture giveaway event.

If you have items to donate, you can:
•Call Ann or leave a message at 636-273-6239 (St. Paul's, Wildwood)
•Email Ann at: annismstl@gmail.com

Show an international student the kindness and generosity of American Christians by donating furniture or other household items. As a volunteer driven ministry, the ISM has many ways for interested Christians to get involved with international students. To find out more about the ISM, visit their website at www.ismstl.org.
All St. Louis Winkel
August 29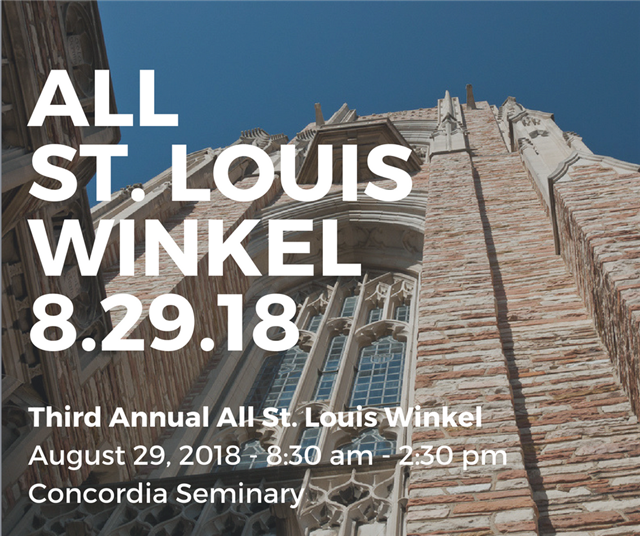 All pastors who attend St. Louis and St. Charles Winkels are invited to the St. Louis Area Winkel on Wednesday, August 29th at Concordia Seminary, 801 Seminary Place, Clayton, MO 63105.

Registration is online only: Click here to register. We will not be able to take registrations over the phone or by email.

There is no cost to attend the Winkel, but you must register online as space is limited. Lunch will be provided. The deadline to register is August 20 (or when space is filled). Last year's gathering had a waiting list, so if you register and then need to cancel, please send an email to Sue.Thompson@mo.lcms.org.

The Winkel provides a great opportunity for pastors from all over the city and across circuit boundaries to come together for the mutual consolation and conversation of the brethren.
LESA's 6th Annual "Brew in the Lou" Festival Returns to Francis Park
October 13
The St. Louis-based Lutheran Elementary School Association's (LESA) sixth annual "Brew in the Lou" festival will return to the Lily Pond at Francis Park, Saturday, Oct. 13, 2018, from 1-5 pm.

"Brew in the Lou" offers one-stop tasting of St. Louis' best beer, wine, spirits, coffee and good eats. Last year's festival raised a record $92,000 for Lutheran schools and showcased more than 40 local and regional craft breweries, along with unlimited tastings from The Stellar Hog, Gobble Stop Smokehouse, Volpi, Dogtown Pizza, Nothing Bundt Cakes and many more. Festivities include live entertainment, arts and craft vendors, a "People's Choice" Home Brew Competition, a "Battle of the Bratwurst" and our annual Brew Chili Contest.

Wristbands are available now at special pre-sale price of just $30 through June 30, 2018 – a $20 savings over same-day admission. On July 1, tickets will increase to $40 advance/$50 day-of-event. To purchase at the special pre-sale rate, call (314) 200-0797 by 4 pm on Friday June 29, 2018, or purchase online by midnight June 30, 2018, on the event website by clicking here. Wristband purchases include a commemorative glass.

More than 8,800 children attend LESA member Lutheran schools in the St. Louis Metro Area, making Lutheran schools the second-largest private school system in the Bi-State area. A Recognized Service Organization of the Lutheran Church-Missouri Synod, LESA represents 35 elementary and high schools and five related agencies. For more information, visit www.LESAstl.org.

Don't miss this year's "Brew in the Lou!" We hope to see you October 13 at Francis Park in the St. Louis Hills - 5399 Donovan Avenue, St. Louis, MO 63109.
Save the Date for the Sr. High District Youth Gathering
November 16-18
Save the date for the Missouri District Sr. High Youth Gathering. It will be at Cross Pointe Retreat Center in Rocky Mount, Mo., November 16-18, 2018.

Watch for more information, including a registration link, coming soon.
2018 National Rural & Small Town Mission Conference
November 8-10


The Lutheran Church — Missouri Synod will host its 2018 National Rural & Small Town Mission Conference on Nov. 8-10 in Kansas City, Mo., at the Hilton Kansas City Airport Hotel.

Geared for anyone from a rural and small-town setting, the conference will address the blessings and challenges facing rural and small-town congregations today. It's also designed to encourage those congregations and their leaders in cultivating healthy churches that are eager to bear witness to Christ, show mercy to those in need in their communities and develop a robust life together with their fellow members.

Building on the theme "Have No Fear," the conference will feature a few keynote speakers including Rev. Timothy Koch, Rev. Dr. Robert H. Bennett, Rev. Tom Schlund and Chaplain Craig Muehler.

Participants will choose from breakout topics such as disaster training, youth ministry, ministry to inactives, family ministry outreach, stewardship, hope during grief, opportunities with Recognized Service Organizations and many other topics affecting our rural and small-town congregations.

The conference rate of $215 includes all plenary, breakout and Bible study sessions; Thursday dinner, Friday lunch and Friday dinner; and all conference materials.

Online registration is available; the deadline is Sept. 15.

Special rates are available for couples, students, meals only and groups. Please contact the RSTM office with questions. Click here for more information or to register.
New Spanish Resources for Hispanic Ministry
If you'd like to share the Gospel with your Spanish-speaking neighbors, or if you're heading out on a short-term mission trip to Central or South America, the Lutheran Heritage Foundation ( www.LHFmissions.org) has translated and published two new resources for you: A Child's Garden of Bible Stories and the Bible with Small Catechism, both in the Spanish language.

Donations to help cover the printing and shipping costs are gratefully accepted, but as with all of LHF's translated materials, both of these books are free of charge to the ministries, churches, or individuals who need them. Call the LHF office at (800)554-0723 or email info@LHFmissions.org with your order (number of copies, hardcover or paperback).
Volunteers Needed for LEA Convocation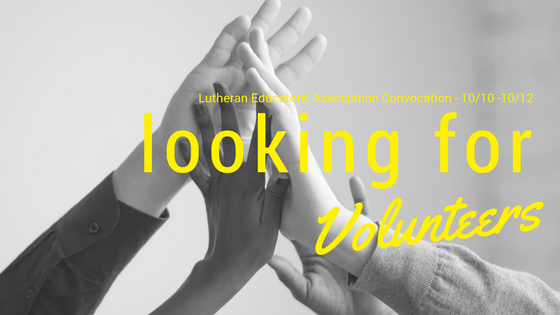 The Missouri District is looking for volunteers to help out at the Lutheran Educators' Association (LEA) Convocation October 10-12 at the Americas Center in St. Louis.
Volunteers will be needed to welcome and direct participants, run errands and assist with registration and hospitality. This is the perfect opportunity for retirees, especially retired educators, so that current educators can attend events rather than serve in volunteer roles.
There are many opportunities available, so everyone is sure to find a fit for their skills, talents and desire. Whether you can be there for a few hours, half a day, or multiple days, we'd love to have your help.
If interested, please send an email with your name, phone number, email address and availability to Alan Freeman at alan.freeman@mo.lcms.org.
Help Wanted in the District

Director of Music
St. Lucas Lutheran Church, LCMS, St. Louis, Missouri is seeking a candidate to serve as a Director of Music. Online applications are available at http://www.stlucaslcms.org/. For more information, please contact the church office at 314-351-2628, Tuesday through Friday, 9am to 3pm.

Early Childhood Center Director
St. Lucas Lutheran Church, LCMS, St. Louis, Missouri is seeking a candidate to serve as an Early Childhood Center Director. Online applications are available at http://www.stlucaslcms.org/. For more information, please contact the church office at 314-351-2628, Tuesday through Friday, 9am to 3pm.

Youth & Family Ministry
Epiphany Lutheran in St. Louis is seeking a personable, organized, and energenic self- starter with experience in youth and family ministry for a part time position. This position will assist the pastor in developing discipleship milestones, coordinating intergenerational fellowship and mission events, develop youth mentors, and equip parents in their role as primary Spiritual care givers to their children. This position will be approximately 15-20 hours per week. For the full position description, contact Pastor Zeigler at pastorzeigler@sbcglobal.net or call the church office at 314-752-7065.
Get $20,000 to become a church worker in the LCMS!
Is God calling you into church work in the Lutheran Church - Missouri Synod? Are you concerned about how you are going to pay for the hight cost of college?

At Concordia University Irvine we value the formation of future leaders for our church. Therefore we are pleased to announce that, starting with the 2018-2019 school year, we are offering qualified church work students a guaranteed total of $20,000 in institutional aid per year, plus a housing grant.

Ready to begin? To start the application process, go to www.cui.edu/app.

To learn more about the church vocations scholarship, who is qualified, and additional application requirements for church work programs, go to www.cui.edu/churchworkscholarship.
Plus One Participation Forms
Many congregations are participating in our community outreach effort, the Plus One Initiative. Congregations are encouraged to complete a Plus One participation form and either mail it to the district office or email it to

plusone@mo.lcms.org

. If you want additional information about Plus One or a copy of the Plus One participation form, go to

http://mo.lcms.org/plus-one/

.