Sent via the Samsung Galaxy S®6 active, an AT&T 4G LTE smartphone
PUBLISHED BY THE MISSOURI DISTRICT OF THE LUTHERAN CHURCH—MISSOURI SYNOD
June 16, 2017
Access Bible Study (for Special Needs Learners),
St. John's Lutheran-Arnold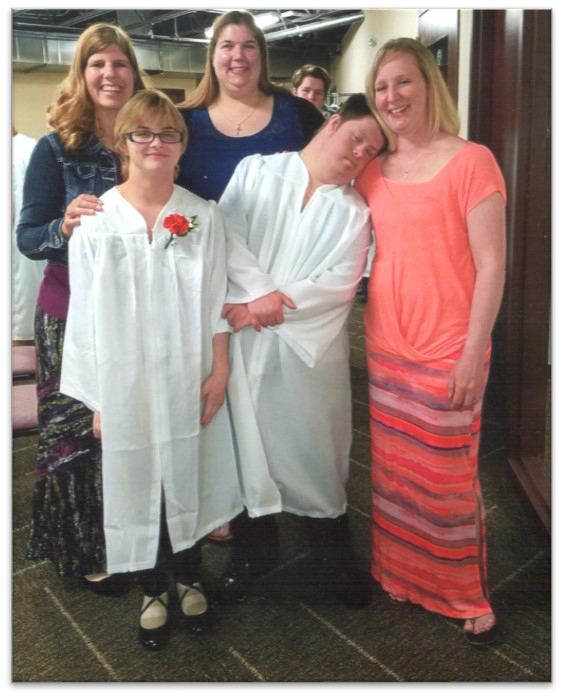 Last year, a young adult named Brooke was confirmed. This might not seem all that remarkable, but it really is. You see, Brooke is a child of God with special needs. She may look a little different. She may act a little different. And she definitely learns a little differently. But she really isn't all that different. That's because she is a beloved child of God, and He uniquely created her inmost being. And, after being confirmed, Brooke wasn't quite finished with God. She simply asked one question: "Now what?"

You see, Confirmation was the not the end of Brooke's spiritual journey. In fact, it was just the beginning. Brooke felt God drawing her closer to Him. She had a hunger to keep learning God's word. So Brooke, with a little help, started Access Bible Study, an opportunity for young adults with special needs to meet in faith and fellowship. Evidently, God wasn't finished with Brooke, either. He used her simple question to jump start an entirely new opportunity for her to help reach even more people for Him. Read more . . .
St. Paul's Lutheran Church, Concordia, MO will be hosting a L.E.R.T.(Lutheran Early Response Training) class


Training will be held:
St. Paul's Lutheran Church Office
401 S. Main St.
Concordia, MO 64020
660-463-2291

July 29, 2017
East Room of the Parish Office
9 am - 4 pm
Registration will begin at 8:30 am

Lunch will be provided. Training will be provided by
Pastor Charles Schultz, LCMS MO District Disaster Coordinator.

The core areas covered in the training are:
Ministry Opportunities
Clean Up & Debris Removal
3 Phases of Disaster Work
4 Phases of Emotions
National Credentialing
Registration is $35 and helps cover the cost of the training materials, and the L.E.R.T. vest, which is required to be worn in a disaster response situation. Deadline to register is July 21st.

In order to better manage volunteers and resources, FEMA has finalized a guideline on credentialing volunteers for large-scale disasters. The federal guidelines indicate that volunteers responding to a disaster should be trained and certified. This training will prepare team member for credentialing and will focus on the safety, work, and ministry of Lutherans as Early Responders.


To register, please call St. Paul's Church Office at 660-463-2291. For questions about the training please call Kent Kunkel at 660-422-0367.
Plus One Participation Forms
Many congregations are turning their attention to our community outreach effort, the Plus One Initiative. Congregations are encouraged to complete a Plus One participation form and either mail it to the district office or email it to
plusone@mo.lcms.org
. If you want additional information about Plus One or a copy of the Plus One participation form, go to
http://mo.lcms.org/plus-one/
.
Save The Dates
St. Louis Area Winkel
Monday, August 14
Concordia Seminary – St. Louis

Professional Church Workers' Conference
November 14-17
Pastors: Nov. 14-16
Educators: Nov. 15-17
Tan-Tar-A Resort – Osage Beach

Check back for more information on the above upcoming events!
2017 Educator's Retreat
Grace Place Wellness is pleased to announce a get-away weekend designed just for Lutheran teachers and their spouses, August 11 - 13, 2017 at scenic Innsbrook Resort, an hour west of St. Louis, MO. Refresh, renew and prepare for another school year by learning the secrets to a healthy, vibrant, and joy-filled ministry. It's your turn to experience the Grace Place Wellness Retreat enjoyed by over 8,000 LCMS rostered workers and spouses.

A registration fee of $100 covers the cost of all lodging, meals and the wellness retreat program. Saturday afternoon is entirely free time to enjoy the amenities at Innsbrook.

We have 16 spots available for this retreat. First come, first serve. Registration is now open at www.graceplacewellness.org For more information, please call Beth McAnallen at 314-842-3077 or email bmcanallen@graceplacewellness.org